2019-12-03:
We regret to inform users that the archiver stack FoolFuuka&Asagi on Rbt.asia, Desuarchive, Archived.moe, and others are suffering reduced accuracy and missing posts in scraping 4chan. New, efficient, and more accurate scrapers are in the progress of development, but needs assistance and testing from C# .NET and MySQL/Percona developers to be ready for use. On behalf of all archivers,
unless FoolFuuka&Asagi is replaced, we will now be unable to scrape properly
under the strain of deep software inefficiency and unsustainable costs (like fireden).
More details here
.
Please refrain from spamming the ghostposting system or it may not be around for long.
Donate
See previous report for information on what happened to Server 2 on 2017-11-22, and other contextual information about how the archivers are hosted. Click here for the full report on wiki.bibanon.org. Discussion thread.
Desuarchive and RebeccaBlackTech/Rbt.asia now serve text and thumbs again with upgraded Sphinx search servers, allowing /int/ search and allowing Archive.moe text dumps from October 2015 to be imported. Edit (2017-12-17): Full images have also been restored with the racking of Server 3, which also allows us to add another 20TB of space for future proofing. (Some images are 404'ing for now since file permissions need to be reset for the new server, but this relabeling will take multiple hours, if not days, due to how many files we store.)
To restore the full image server (cdn2.desuarchive.org), the Bibliotheca Anonoma has purchased and successfully tested a new $300 ASRock EP2C602-4L/D16 motherboard to replace the Foxconn T2491601 motherboard that failed on Server 2. Since it is a Xeon E5-2600 LGA2011 and DDR3 compatible motherboard, the majority of our parts and hard drives were compatible and the configuration was tested to work.
At this time, we can bear the cost of those parts ourselves, but we don't have much more funds for future upgrades or hard drive replacements. To date we've collectively put in hundreds of hours of volunteer work and around $5000 into this equipment, not including monthly fees of $250-300 a month, and overcome many obstacles that would have vanquished our predecessors.
Notice that now that Server 3 is deployed, there's enough room and resources to comfortably fit more expansions, such as providing more RAM for another sharded search server (even more RAM hungry than the Asagi scraper), the ability to archive future boards, or by providing hard drives to import all full images from Archive.moe (dumps from Oct. 2015, no relation to Archived.moe) and other dumps.
Regardless of funding, the Bibliotheca Anonoma is also pursuing software improvements to Asagi or even an asynchronous replacement (work which benefits all Asagi-based 4chan archivers). Already, we have optimized our MySQL tables with TokuDB, and put together a sharded Sphinxsearch cluster that enables /int/ search and allowed us to import Archive.moe /a/ data from before October 2015.
Cost Breakdown
It costs us about $240 a month to host all these services, all paid out of pocket by Desuarchive and Archived.moe. (After the failure of Server 2, we deployed cloud services to host text and thumbs of Desuarchive and RebeccaBlackTech, making it about $300 a month for December.)
In total we have collectively put more than $5000 into the hardware: $1500 for our current 5x5TB 20TB ZFS and another $1500 for (our originally planned upgrade) an empty 5x5TB 20TB ZFS. We don't have much funding left for anything more.
Colocation - A colocation is a datacenter where a single user can rent a space or a cabinet with a power plug and ethernet port to insert their own server blades into (thin ATX PC cases with large fans: essentially, a flat desktop).

($89/month) Colocation B: 1gbps. Contained Server 2, to be replaced with Server 3 or (if that doesn't work out) Server 1.
($99/month) Colocation A: 100mbps. Contains Server 1. We aim to discontinue this colocation whatever happens.

VPS Servers - Virtual private servers that can be spun up or spun down anytime. The Archiver of Last Resort was running impressively, so we spun up a second node for Desuarchive and RebeccaBlackTech to run from.

(39 euros/month) Archiver of Last Resort - A private FoolFuuka/Asagi archiver that has been scraping text and thumbs from 4chan since 2016. We obtain SQL dumps from this archiver in case of downtime.
(39 euros/month) Desuarchive and RebeccaBlackTech - MySQL, Master Sphinxsearch, Asagi, and FoolFuuka live here.
($150/month) Multiple Sphinxsearch sharded servers for RBT & Desuarchive.
Thus, if you would like to donate specifically to help with future upgrades or unexpected costs, you can donate with a Credit / Debit card below using Stripe. (We're exploring rewards tiers options in the future).
Donate
Or you can send drop in some funds to the following cryptocurrency addresses:
Ethereum (and tokens): 0x6f2d0BcB4C6921f72122B436B0bf58F02c5F3656
Bitcoin: 34mDFX8eURxgExeygobmPE5imf9V43WPGE (Fees are almost $3-6 with Bitcoin... Only send in large amounts, or exchange it for any of the other coins)
Bitcoin Cash: 17YF3XBfgE2NAXRRCskJ2ZFnDrm7xAfCnT
Litecoin: MLEV6qd4zaUDZgVPEfym5X4vAnDr7h4sXJ
DASH: Xyba8qfcuLgcX1SYGmHBqt9qikiQYFp5gY
ZCash: t1SouxYoqvtAUP22RbhVMPKNne6YUvdHECG
Monero: 445Sxbv1LFMKyuxD5oZ4nmYdairWYaXY9We9aH1rnsAqYaFyg5GnnqqFXuH5YmQn418aDPsYhMPHyQbtauCgkvv7BqaqTt8
Dogecoin: D9Euhvj4PZPSRLa8e57EQn6fj4fuupKVSm
Thank you for your support !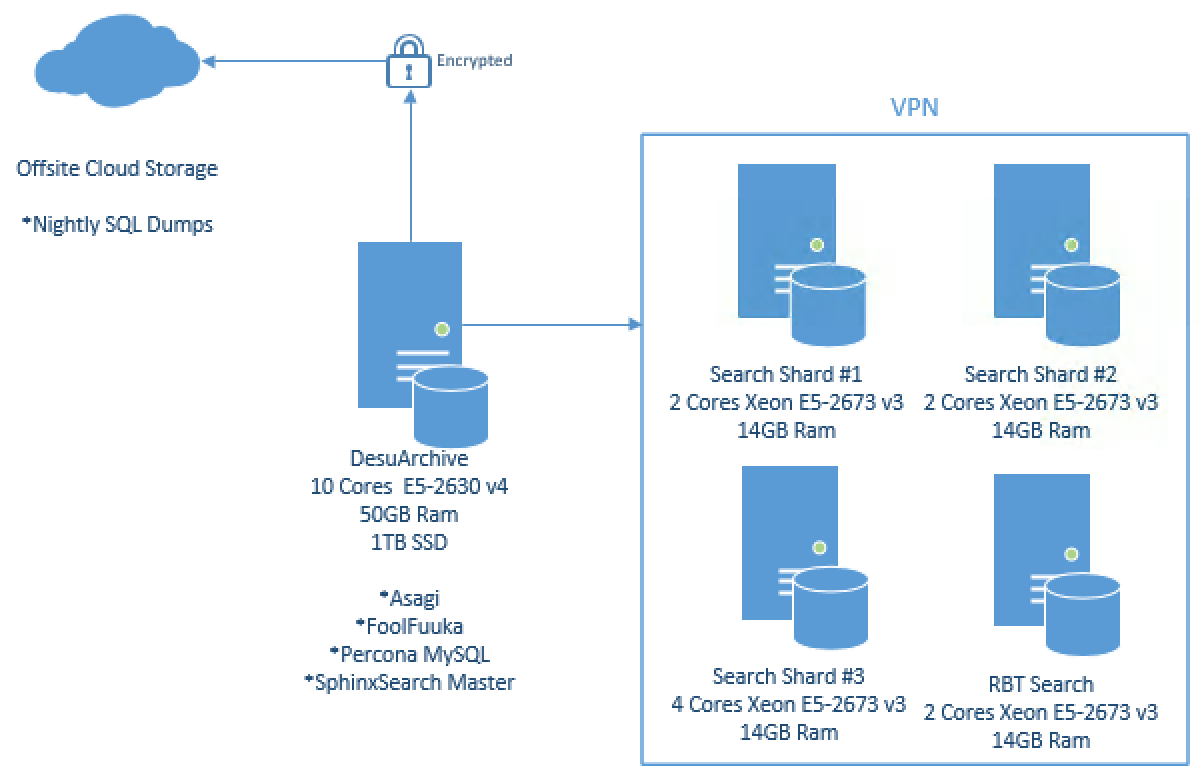 Desuarchive/rbt.asia current configuration.